Employers today know the importance of collaboration and task delegation to improve their workforce productivity. For the employees, however, this means moments of miscommunication, misdirection, vague instructions, stress, and expectations to meet. These are some reasons why we sometimes feel lost and confused at work. Fear not, you are not the only one feeling like this.
Some days are tougher than others. The idea is always to find your way out of this state of confusion. Here are some mental shortcuts that our mentors use at work (because yes, they face it too) to make it easier for you to get out of it.
#1 Sit out from work for a bit! Reorganise your thoughts.
Continuously facing the task that you're confused about will only lead to further frustration. "I believe that the best way is just to sit and chill out first." Ana Jovanovic (Chief Operating Officer at the NGO SOLS24/7) recommends. "Go back to the tasks you were given and try to understand them better."
Similarly, Thatchu Selvarajan advises you to take a step back. "Remember, nothing ever gets solved by worrying about a problem." Like Thatchu, our mentor from the UK, we recommend you take your mind and body somewhere else – take a stroll down the pantry, a lounge, or outside – and away from work. This might help you come back stronger to your work.
(Picture from Entrepreneur.com)
#2 Stuck on something you do not understand? Reach out to a colleague.
You are certainly not alone. Look around! Your colleagues are with you. You are no alien to them even if you have never spoken before. See, it is okay if they do not have the answer or knowledge to complete the task for you! Just take their suggestions and examine the situation with a different pair of eyes. As Tarminder Singh , Senior Executive at International Medical University puts it; it is about learning the fact that you don't know and getting to improve yourself.
Sirhajwan Idek, a teacher at Keningau Vocational College, thinks that "Experience is the best teacher, as well as those who have had the experience." Use your intuition to find the best buddy to reach out to. Remember, forget about the fact that they are older or younger, how long they have been in the company, which department they are from, etc. All you need is to be honest to them and to yourself.
#3 Let your boss know! (BUT carefully… Read on)
Depending on your organisation, it might be better to approach your supervisor directly to clarify about something you are confused about. Contact them and let them know what troubles you, but you have to do this with caution. "Don't sound frustrated as it is completely normal that sometimes you get lost in the task." Ana relays. "Instead of saying you don't get it at all, explaining to them what exactly is not clear makes it easier for them to see what is not clear to you."
More often than not, your boss knows how it feels to be clueless, and are happy to lend assistance. Patrick Tan, a consultant at A.T.Kearney, thinks that you should not always be guessing what your supervisor wants from you when confused. "Challenging your direct supervisor to get better and clearer instructions shows he or she that you have thought through the work and you intend to deliver what's needed," though Patrick says this should be done with the right professional tone. This not only saves you from making unnecessary mistakes but also help you meet or exceed the expectation of your boss.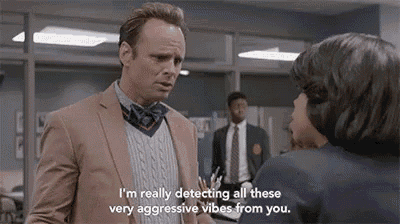 (via Tenor)
#4 Believe in your capabilities
Last but not least, do not doubt yourself! There is a lot still to know and to learn in the office and these hard times are only indications that you can still improve. "Always believe in your capabilities not just to fulfil your roles but also to constantly get better." Sirhajwan echoes. We tend to forget who we are when we don't know what to do, but remember feeling lost and confused occasionally is perfectly fine – it just means that you are being challenged and that you are still growing! Do you remember how you used to feel lost and confused at the world around you when you were still a child? No one knows it all, and we're all still figuring it out.

Advice from the Family Ferret
It is good to draw a line between what is personal and what is professional. What you do not know at work does not define who you are as a person. Similarly, keeping a professional tone is about setting your emotions aside to get something done. See the office as a safe space for you to learn from others, and to learn about yourself! Forgive yourself for your shortcomings and recognise it is not your tasks that control you – but your thoughts.
Thank you to our mentors who contributed to this post!
Prolonged confusion and dissatisfaction at work might be a symptom of a bigger problem related to your career direction. Get insights from our mentors to help you feel more settled in your career.
If you are lost and confused about your career path in general, we are hosting a Webinar series where mentors will illuminate the search for a career 'direction'. Yes, it is free!